Cheap Sales Triangle Ruler Plastic Set Square wholesale Customized
Triangle Ruler Plastic Set Square
None

Shenzhen China

25-30days

15000copies/week
100% OEM, directly factory price.
•More than 19 years printing service experience.
•Experienced team.
•Good after-sales service.
•Fast delivery.
•Small quantity acceptable.
Triangle Ruler Plastic Set Square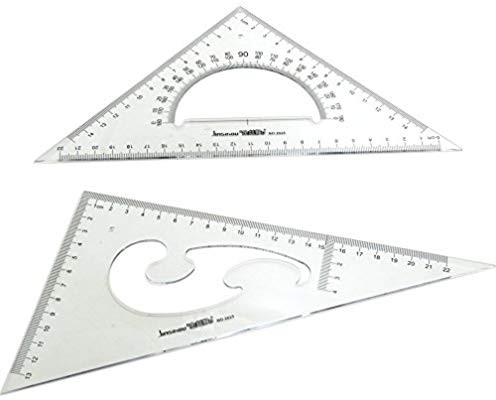 Material: Plastic,PVC,PP,ABS,PET META
Shape:Customized
Size:Customized
Color/Logo :Customized
Sample time:7 days
Delivery time:25 days, depending on q'ty
MOQ :10000 pcs
Instructions
The triangular plate has 45°, 90°, 30°, 60°, and 90° square edges. A square plate and a T-square are used to draw a series of vertical lines in a bottom-up order. The T-square can be used to draw a straight line of 30°, 45°, and 60°. When drawing, draw a diagonal line from left to right. Use two square plates and a T-square to draw a 15°, 75° diagonal line. With two triangular plates, you can draw parallel lines of any one of the lines.
Characteristics of triangle rule
There is a right angle and 2 acute angles on the triangle ruler. The two acute angles of the isosceles right triangle are 45°. Two identical isosceles right-angled triangles can be made into a square or a larger isosceles right triangle. The two right-angled sides of the isosceles right triangle are equal in length. The acute angles of the elongated triangle rulers are 30° and 60°, respectively. Two identical elongated triangle feet can be combined into an equilateral triangle. The length of the hypotenuse of the elongated triangle ruler is twice the length of the short right angle side.
In our modern society, the triangular plate is one of the main mapping tools for learning mathematics and quantity. Each set of triangles consists of two special right triangles. One is an isosceles right angle triangle and the other is a special angle right angle triangle (hereinafter referred to as an elongated triangle). Used for measurement or mapping.
About us
Shenzhen Longyin Printing Packaging Co.Ltd is established in 2001. After years of effort, the company has been one of Printing& Packaging and Advertising suppliers for some famous enterprises in domestic and foreign area, such as China Telecom, China Mobile, China Life Insurance, McDonald, and so on.
Our factory is up to 6000 square meters which located in Longhua District,Shenzhen, more than 300 employees, including around 50 various technical staffs, also has some manual workers as backup which supports us complete large printing orders in short time.